| | | | |
| --- | --- | --- | --- |
| A treasure trove of free eBooks | | | |
Welcome to the eBook treasure trove. I've collected thousands of eBooks which I've paid for and am reading, and sharing with you. Of course, they are second hand now, but you probably won't recognise it because eBooks usually look young and fresh. (If only the same applied to their human readers.)

... in our world, there can be no mistaking that eBooks are the future.
I'm very involved in writing and reading, and teaching the reading and writing of English. Although I consider eReaders the best invention since, well, the very first Sony eReader, it doesn't spoil my love for traditional books, the feel of them, the smell of them, the pleasure of older fonts, and the layouts, their magic.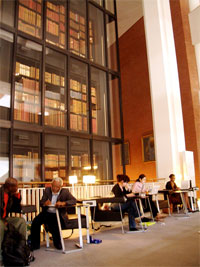 Room for reading ... Consuming knowledge at the British Museum.
However, in our world, there can be no mistaking that eBooks are the future. For a green world, they don't require the sacrifice of forests, and they can't be immolated by nutty authorities, and no matter how heavy a book's story, it weighs nothing.
You can take your favourite book, or top 100, or several hundred, with you on the tube, bus, flight, ship, even in a car, and enjoy them. And whether you have one light paperback, or the complete Shakespeare collection, the weight is the same.
Spirit of the internet
I want to share my passion for ebooks – so my collection of thousands upon thousands of them is here for you. All of them are free in the true spirit of the internet. And it works like a library, only you don't have to register to join, and we don't stamp your books with a date for their return, and we certainly don't fine you for being late.
This is the spirit of the internet. It's open source, all free.
I'm an EngLit graduate so I care for what we call good books. But one of the marvellous things about books is that humans can really feel passionate about a vast range of them.
So while you will find Shakespeare and George Eliot and Thomas Hardy here, you will also find books from almost every other genre.
By the by, if you have an eBook that isn't here and feel happy to share it with other book lovers here, please This e-mail address is being protected from spambots. You need JavaScript enabled to view it it to me and I will put on the site with a 'donated by' byline beside it.
I live beside the Thames, near ancient Kingston, where we have fantastic libraries - and really skilled librarians - and I use the vital amenities all the time. But if I take a train and a bus to make a regular call on that favourite venue, the British Library, you'll find me on the top deck reading a current favourite on my Kindle or my Sony. There's certainly a place, and a need, for both traditional and electronic books in our world.
Happy reading! Enjoy!

This e-mail address is being protected from spambots. You need JavaScript enabled to view it