The eBookTrove-dot-com website simply has to have a sailing section. After all, your well-meaning host is a Cape Horner, a singlehanded Cape Horner, and only the 57th human possibly crazy enough to pass the challenging cape on his own.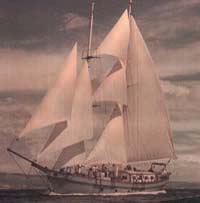 Glory days ... Valkyrian as she was in her young days.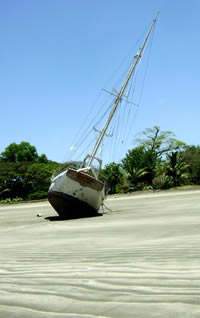 Washed up ... Nearly the end of the road.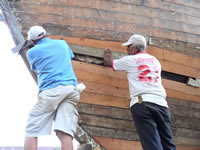 Road to recovery ... Specialist help to get the beautiful Valkyrian back to good health.
And after that adventure, he went back to college to get the certification so he could follow his love of the sea as a professional.
So for many years, in most of the seven seas, I sailed big boats and superyachts for others who also loved the sea.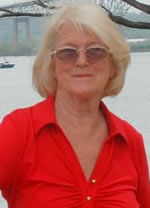 Rosalind ... a great article.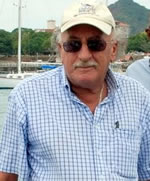 James ... rescued and restoring Valkyrian.

Some unfortuate happenings, like eight days in a liferaft among sharks, reminded me that there comes a time when a fellow has to swallow the anchor.

But, as you'll have seen, there are plenty of ocean reminders here, with shelves and shelves of sea yarns.

And now here's a sailing corner, and first up is an article by an intrepid voyager herself, Rosalind Laing.

She and husband James run Panama Yachting Services which builds and restores notable vessels. They build quite beautiful dinghies as well.

In fact, if it floats, James and Rosalind are your men. Well, your people.

There's a great article here, too, that tells of the good ship Valkyrian, a classic working schooner - with a square-rigger foremast.

The couple rescued the vessel when she was all but abandoned at Panama, and now they are restoring her stunningly.

They have arranged for the Valkyrian to act as a sail-training ship for naval cadets at Panama - the country's first.

When this gorgeous vessel isn't educating the young professionals, she will be making some pleasurable charters.

James and Rosalind run Panama Yachting Services and Debug America Latina

Here's her story of the recovery and rebirth of the beautiful schooner.

Rosalind said, 'A lot of work is in hand and progressing. This gives an idea of the task of planking: the schooner has four layers of planking - two diagonal layers of half-inch kauri and two horizontal layers of 11/4 inch and one inch kauri.

'In this photo album, you can see the boards that have been replaced. Some planks were damaged lying on the beach for a month waiting for another high tide.

'The album has the whole rebuild - day by day.'

There's another sailing story here by Tudor Atkinson of an adventurous voyage into the Southern Ocean by the yacht St Michael. Tudor Atkinson is related to James, and Rosalind gave the story to eBookTrove-dot-com for the pleasure of sailing fans.

As you might have discovered, there's no shortage of sea tales on eBookTrove-dot-com. I know, there is a problem when there are so many books and no alphabetical listing. However, ebook fans, please know that I am working on it. But, as you might imagine, it's a big job.

Meanwhile, here's a link to almost 700 nautical stories. And here's a favourite by Hemingway, The Old Man and the Sea.

Rosalind's story is here:
A new life for Valkyrian.pdf

Tudor Atkinson's story is here:
St Michael goes south.pdf

More sea stories:
Very nearly 700 nautical stories
The Old Man and the Sea